What Is EFT?
Emotional Freedom Techniques



Kay Christopher
Certified "Gold Standard" EFT Practitioner
Pastoral Counselor
Practicing & Teaching EFT Full Time Since 2006



Emotional Freedom Techniques (EFT) is a practical body/mind self help technique that may decrease stress and negative emotions (fear, anger, grief, shame, guilt, worry, blame, etc.) as well as the physical symptoms they can cause. It is renowned worldwide for its ease of use and its effectiveness.

EFT is used for a large variety of emotional and physical issues. Based on tapping acupressure meridian points with the fingers while thinking of the problem, it addresses the energy system of the body. It has been called by EFT Founder Gary Craig a "universal healing aid". It is not only used for physical and emotional problems but also may positively impact human performance in areas such as sports and public speaking. It is used to improve relationships and even to solve issues in business.

In addition, EFT is a technique which can allow a greater experience of our innate spirituality, freeing us from the limitations which reduce the quality of our life experience.


IMPORTANT - the legal stuff:
By entering this web site and reading, watching or otherwise engaging with the information here you are agreeing to this disclaimer


INDIVIDUAL EFT SESSSIONS

EFT TRAINING & CERTIFICATION

SUBSCRIBE TO EFT NEWSLETTER



Kay Christopher, Certified EFT Practitioner

Kay is one of only a handful practitioners in the world to be certified by Tina Craig through the Association for Comprehensive Energy Psychology (ACEP). Kay practices only Gold Standard EFT, the official EFT taught by EFT Founder Gary Craig, because it produces far superior results compared to what is typically taught as EFT.



Kay has been certified by EFT Universe as an EFT Expert Practitioner-2,



and by the Association for the Advancement of Meridian Energy Techniques International as an Accredited Certified EFT Master Trainer.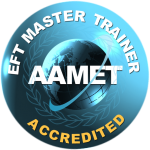 She is also a Pastoral Counselor with the Association for the Integration of the Whole Person (AIWP).

Before discovering EFT Kay already had many years of experience practicing psychotherapy and coaching for personal and professional success. She also has an extensive background in business consulting. She currently provides individual EFT sessions both in person and by phone & Skype, and leads ongoing EFT trainings and workshops.



For information about scheduling a session
Click Here.

To receive periodic EFT Articles and notification of Workshops and Events
Click Here.

Listen to Kay Christopher's EFT Radio Interview on AwakeningInAustin:

Continue to explore this web site for articles, information about EFT training and other events, client comments, individual sessions and more.




www. EFT-Austin.com